The 10 Best BBQ Sauces You Can Buy Online
Here are the luscious bbq sauces great for dipping, grilling, marinating, and smoking.
The sauce is the boss! Perhaps you've had a similar experience: you've just devoured some very wonderful ribs, slathered in a gleaming, sticky, sweet, and smoky sauce. These luscious barbecue sauces are sure to elevate your grilling experience.
So, we've compiled a list of the greatest sauces available online to evaluate whether ones are up to par. Barbecue sauces, it turns out, are similar to snowflakes in that no two are the same, along with some helpful advice to help you figure out what best bbq sauce is right for you, how to spice it up, and how to use barbecue sauce to make truly unforgettable barbecue. 
List of Best BBQ Sauces Online
This sauce is based on a South Carolina-style mustard sauce, as you could have guessed from the name. According to the South Carolina Barbecue Association, the usage of mustard sauce with pork was carried over by German settlers. The sauce was then thickened with vinegar and spices to form the sauce we know and love today. While not as versatile as some other barbecue sauces, this mustard sauce inspired by South Carolina is the ultimate hog condiment. Lillie's Q Carolina Barbeque Sauce is the best bbq sauce for pulled pork, brisket, and smoked chicken. Cocktail meatballs and dogs, and southwest salad, benefit from it. 
It's an art form to serve barbeque that's authentic to regional traditions while still producing distinct, reinterpreted flavors. Thanks to Grandma Lillie, who comes from a long line of BBQ enthusiasts.
Ingredients: Cayenne pepper, paprika, black pepper, garlic, paprika, onion powder, brown sugar, mustard, tomato paste, ketchup, apple cider vinegar, distilled vinegar, Worcestershire sauce, lime juice, allspice, salt, and apple juice.
A sauce that will appeal to anyone's taste buds. Every competitive BBQ team faces an enigma when it comes to developing one. Yes, Dear BBQ's Competition Sauce strikes the perfect balance of savory, smokey bbq, sweet, and spicy flavors for any meat. This sweet, tangy tomato-based sauce has just a hint of spice on the back end to complement pork, ribs, beef, and poultry. This tasty sauce has been utilised on several top ten calls in contests around the southeast.
Stubb's Original Bar-B-Q Sauce (Sour and Tart)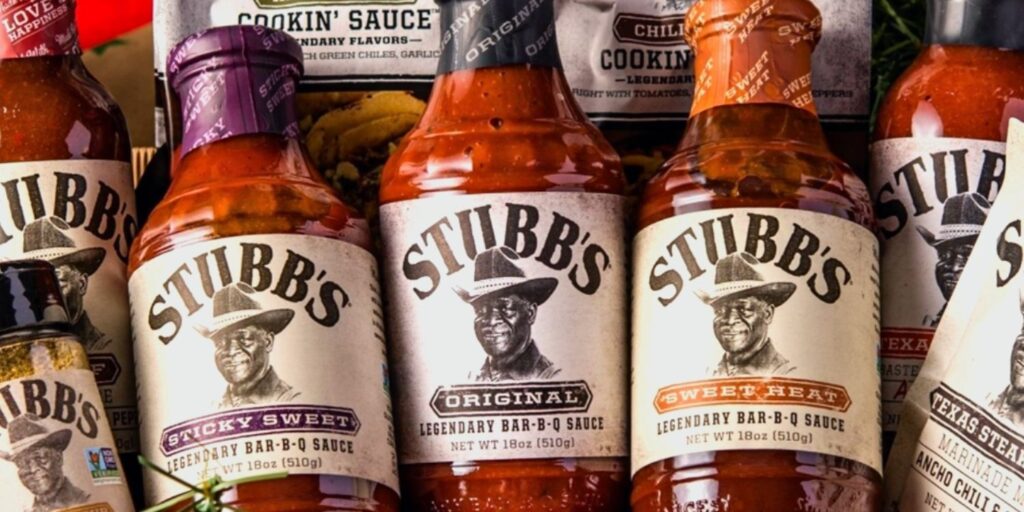 Stubb's Bar-B-Q Sauce is 100% Texas-style. Texas has its unique barbecue traditions, including a thinner "mop sauce" or "basting sauce" that is used to baste the meat as it cooks. Stubb's is a good choice if you want a tried-and-true BBQ alternative with only four grams of sugar — healthiest bbq sauce. Stubb's bbq sauce is a zesty mix of tomato, vinegar, molasses, and spices that you can't go wrong with. C.B. (later C.B.) Until the demand got too great and he had to speed up production in the 1990s, "Stubb" Stubblefield produced each batch by hand in a 60-gallon cooker. 
Ingredients: Cane sugar, molasses, salt, brown sugar, tomato paste, vinegar, and spices.
Sweet Baby Ray's No Sugar Added Original BBQ Sauce (Sweet and Tangy)
The delectable combination of SBR Original has captivated the thoughts and taste buds of people all around the world. While we adore all of our sauces equally, SBR Original's sweet, award-winning flavor will always hold a particular place in our hearts and refrigerators. 
Sweet Baby Ray's original flavor is sweeter than the name suggests, and a dash of pineapple juice contributes to its particular tanginess. On chicken, brisket, and ribs, Sweet Baby Ray's Barbecue Sauce is fantastic. Furthermore, the sauce will give excellent sweetness whether the meats are smoked or grilled. The sauce is also delicious on hot dogs, fries, grilled tofu, and burgers. Even Melbourne butchers are raving about this sauce! As a result, you receive a cooking ingredient that's perfect for expanding your condiment collection. 
Ingredients: Corn syrup, tomato paste, food starch, vinegar, juice concentrate, and spices.
Blues Hog Original BBQ Sauce (Sweet and Spicy)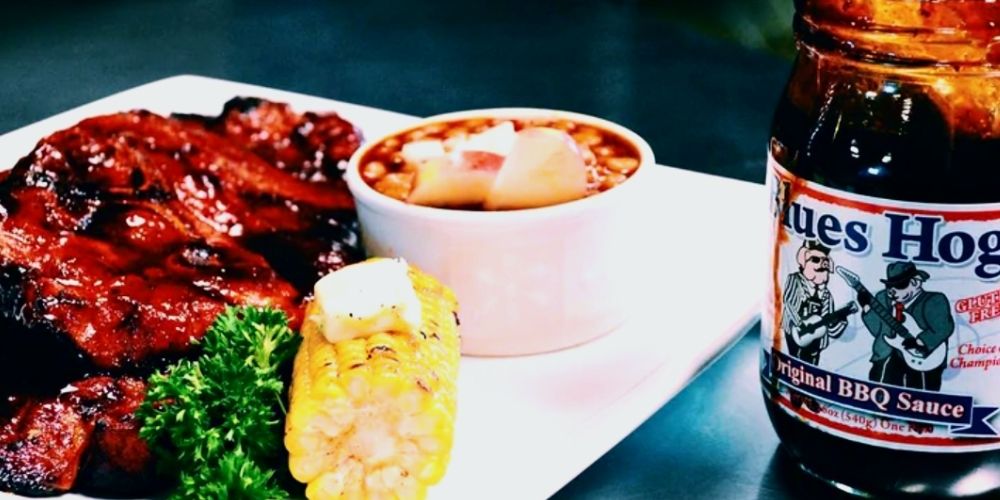 If you're tired of your barbecue sauce bottle being empty frequently, Blues Hog has a solution for you. They sell four-pound and eight-pound bottles of their Kansas City-Style sauce. The sauce itself has won accolades at the prestigious American Royal World Series of Barbecue, including "Best Baste on the Planet" and "People's Choice." This sweet, spicy, and thick sauce is fantastic on pork, beef, wild game, fish, hot wings, blended with ground meats, vegetables, and, of course, ribs.
Ingredients: Dried garlic, brown sugar, vanilla extract, paprika, apple cider vinegar, ketchup, Worcestershire sauce, and salt.
This sweet and tangy sauce is a traditional Alabama white sauce barbeque with a fiery touch from cayenne pepper. Although we prefer Ivory with chicken and fries, feel free to use it with any of your favorite BBQ foods. There are no artificial colors or tastes in this product.
Ingredients: Apple cider vinegar, distilled vinegar, cayenne pepper, black pepper, lemon juice, lime juice, filtered water, honey, egg yolks, and salt.
Why don't you try some authentic Korean cuisine? Bibi is a Korean word that means "to blend." The product's name is derived from the words "bibi" and "go," implying that the sauce is always ready for wonderful barbecues. The formula's ingredients are safe and sold in a six-pack of 16.9-ounce bottles. 
Furthermore, the Bibigo Korean BBQ sauce is the recipe to use because it has the perfect blend of sweet and savory flavors and components. You can do a lot of different things with this sauce. It can be used to make delicious BBQ ribs, baby back ribs, chicken BBQ, mac & cheese, Gochujang BBQ chicken, and Korean BBQ short ribs, among other dishes.
Ingredients: Green onion extract, sesame, soy sauce, pear puree, sugar, black pepper powder, ginger extract, corn syrup, xanthan gum, and salt. 
It's a good thing the Traeger 'Que BBQ Sauce has this wonderful feature that you may use for a variety of your favorite recipes. The sauce has a classic, thrilling flavor with smokey hickory, tangy vinegar, and brown sugar undertones. Another noteworthy feature of this recipe is that it contains only premium components and is free of any potentially harmful substances. You may spread the sauce on the meat, marinate it, or dip it in it. It's also delicious with pork, chicken, and fish. 
Because of its unique composition, Traeger's Que BBQ Sauce is a natural complement for ribs. You may use the sauce to enhance any of your favorite rib barbecues. Furthermore, if you enjoy hickory hardwood pellets and Traeger rub, you may combine the two to produce a tasty, full meal. 
Ingredients: Hickory smoke flavoring, black pepper, brown sugar, tomato paste, apricot puree, vinegar, soy sauce, mustard seed powder, corn starch, water, and salt.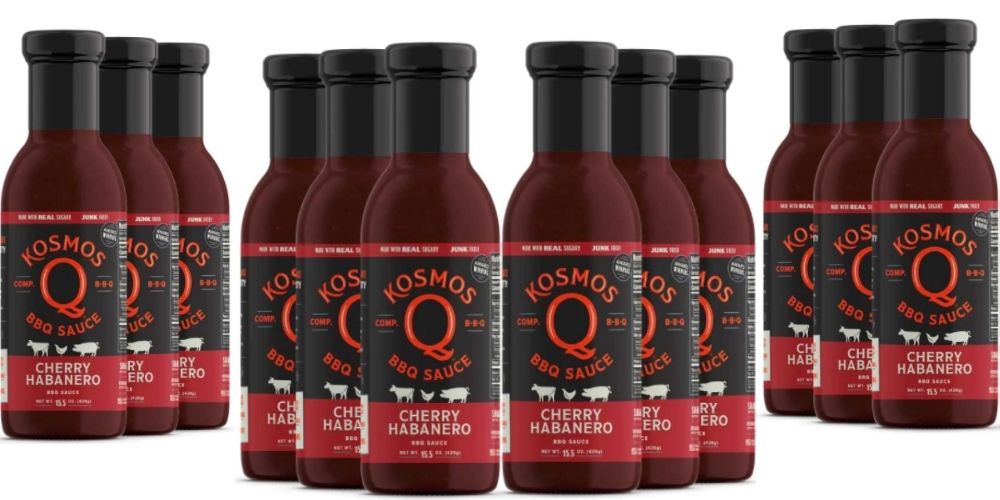 This sauce mixes chili heat with the sour tang and sweetness of cherries and is made with Kosmos' distinctive habanero mash and pure cane sugar. The bold fruit taste is fantastic as a rib glaze, marinade, dipping sauce, wing coating, or burger and hot dog condiment. If you want to branch out from traditional Kansas City or Texas-style barbecue sauces and try something new, this could be the sauce for you.
Ingredients: Vanilla extract, tamarind concentrate, granulated garlic, chili powder, onion powder, habanero mash, tart cherries, cherry juice concentrate, cane sugar, molasses, distilled vinegar, water, and tomato paste. 
This sauce comes from the great Dinosaur Bar-B-Que in Syracuse, NY, which debuted in 1988 and has since expanded into what was formerly Andy's Cycle Shop and become a cornerstone of the NY BBQ scene. This thick and sticky sauce is made with all-natural ingredients and is gluten-free. It has less sugar and a stronger tomato flavor, so if you're not a fan of overly sweet barbecue sauces, this could be the one for you.
Ingredients: Lemon oil, onion, green bell pepper, garlic, sugar, vinegar, mustard, brown sugar, molasses, xanthan gum, natural smoke flavor, salt, and crushed tomatoes.
How to choose the best barbecue sauces?
It's not about how they look when choosing the best BBQ sauces; it's about crucial variables like brands, ingredients, flavor, pricing, and so on. We'll go through the variables you should think about while choosing the best BBQ sauces in the section below. 
There's no way you don't think about brands while choosing the best BBQ sauce. The best flavors for the best barbecues are found in the top brands. Every brand on our list has been thoroughly researched and proven to be reliable.
As you can see from the list above, the flavors of BBQ sauces are determined by the key ingredients. Tomato paste, vinegar, and spices like black pepper or mustard are the most prevalent. Some BBQ sauces contain artificial chemicals, but the greatest sauces are prepared with natural components.
It is, without a doubt, the most important aspect for most consumers because it defines whether or not the goods are within their budget. Fortunately, the BBQ sauces on our list are inexpensive. The cost is usually determined by the quantity ordered.
How much sauce should I use?
To get a nice result, you don't need to cover your meat in gallons of sauce. Remember that the meat's flavor and the smoke should be the stars of the show. It's only necessary to apply one or two coats of sauce to your meat while it's cooking. For both sides, a complete slab of spareribs with the tips on will require at least 3/4 cup of thick sauce, a slab of St. Louis cut ribs will require 1/2 cup, and a slab of baby back ribs will require 1/3 cup. If your guests are great fans of barbecue sauce, you can always leave some on the table for them to add to if they want.
How to apply the BBQ sauce?
If you prefer to sizzle the sauce, make sure you keep a close eye on the meat. A word of caution: never reuse the leftover barbecue sauce from your meat coating. Even if the meat was almost cooked when you applied the sauce, germs and spores that dwell in uncooked/undercooked meat have the potential to spread. Use a separate bowl for the sauce you'll use to coat the meat and discard any sauce you don't use. As a tableside condiment, always use fresh sauce.
The technique for applying BBQ sauce is different for each type of meat as you'll find out below:
It's ideal to use the BBQ sauce early in the cooking process when it comes to beef. Make thin slices in the meat and pour the sauce over them, allowing it to seep into the cuts. When the meat is done cooking, apply the final layer of sauce and wrap it in foil. This will allow the last layer of sauce to adhere to the meat, giving it a complete flavor
The easiest technique to apply BBQ sauce to chicken is to baste it. Using a basting brush, coat the entire piece of meat but do not deluge it. For chicken, a thick sauce is better since it stays on the meat. To begin, put the sauce on one side of the chicken and cook it for five minutes. Then flip it over and coat the second side with sauce before cooking it as well. 
The easiest technique to apply BBQ sauce to chicken is to baste it. Using a basting brush, coat the entire piece of meat but do not deluge it. For chicken, a thick sauce is better since it stays on the meat. To begin, put the sauce on one side of the chicken and cook it for five minutes. Then flip it over and coat the second side with sauce before cooking it as well. 
Using barbecue sauce on turkey is comparable to using it on chicken. Allow the turkey to simmer for about 5-15 minutes with a heavy covering of sauce on one side. Turn it over to the other side, brush it with the sauce, and serve.​
When should I apply the sauce?
Barbecue sauce has a high sugar concentration, which means it can burn quickly. Apply the sauce near the end of the cooking process to avoid this. This gives the sauce time to heat up and possibly caramelise, but not burn. A decent rule of thumb is to apply the sauce 30 minutes before the meat is ready to be removed from the heat. Just before you remove the meat from the pan, coat it in sauce and cook it for about 10 minutes on each side over direct, high heat. To avoid overcooking the meat, sizzling the sauce around 30 minutes before your cook is finished will give you the greatest results for both the sauce and the meat.
While there is no way to say if a bbq online buy sauce is excellent or poor there are a few things to look for when selecting whether the sauce is ideal for you or the right match for the meat you want to cook. A superb barbecue sauce is an essential component in crafting wonderful barbecue, and it can transform something good into something extraordinary, whether it's one you've produced, bought, or improved on. 
Is there a sauce that you think should have been on this list? Are you eager to share a fantastic barbecue sauce recipe with your fellow pitmasters? Please let us know in the comments section below!