How to Tell if Your Steak is Safe to Eat: A Meat-Lover's Guide
As a steak lover, I've learned a thing or two about how to tell if a steak is safe to eat. After all, there's nothing worse than firing up the grill only to be hit with the smell of spoiled meat or slicing into a beautiful ribeye to find it slimy and with a greenish colour inside. That's why I've learned a few simple tips to help me assess the quality of steak before I cook it.
Whether you're thawing frozen beef, checking the steak in your fridge, or evaluating a discount cut from the supermarket, it's important to know how to test steak for safety and quality. In this blog, I'll share helpful tips for identifying if your steak is still good to go on the grill!
What is the importance of food safety, especially when it comes to steak?
A great steak dinner can quickly turn tragic if the meat has gone bad. Nothing puts a damper on an evening like food poisoning. That's why steak safety should always be a top priority for any home cook or professional chef. In the following guide, we'll cover the critical importance of proper food handling, the dangers of consuming spoiled meat, and provide clear instructions for evaluating if your steak is still good. Food safety isn't just a set of rules; it's a way of life. From skilled chefs to home cooks, we all have a responsibility to follow safe practices from the time we buy our food from the local butcher or market to preparation and until it reaches the plate. 
What are the risks of eating bad steak?
Let's first establish the significance of food safety before getting into the specifics of steak inspection. To lower the risk of contracting a foodborne disease, proper handling, preparation, and storage of food are essential. Foodborne diseases, such as
Salmonella, Norovirus, Clostridium perfringens, E. coli, and Hepatitis A are frequently mislabelled as "food poisoning" and are underreported. These diseases cause a huge burden on public health. Understanding possible risks, which can be chemical, physical, biological, or radioactive, and how they affect different food supply chain stages is essential to controlling food safety.
The risks of consuming bad steak are substantial. Spoiled meat isn't just an unpleasant experience; it can lead to a miserable bout of foodborne illness. Spoiled food can harbor hazardous bacteria and toxins, causing a wide range of symptoms, from stomach cramps and vomiting to fever and diarrhea. The culprit behind these illnesses can be disease-causing microbes like E. coli and Salmonella, which, when ingested, colonize the gastrointestinal tract and release toxins, leading to severe infections. If your organs are affected, the consequences can be even more severe.
I learned this lesson the hard way after hurriedly eating questionable beef gyros from a street vendor. Within hours, I was doubled over in pain and headed to the ER with a case of food poisoning. My miserable experience is a cautionary tale about the serious risks of consuming bad meat. 
Luckily, arming yourself with the knowledge to identify spoiled steak properly can help avoid foodborne illnesses. Our guide will equip you to confidently determine if your meat is safe before taking that first bite. With the proper precautions, you can enjoy your favourite cuts without the dangers of consuming contaminated steak.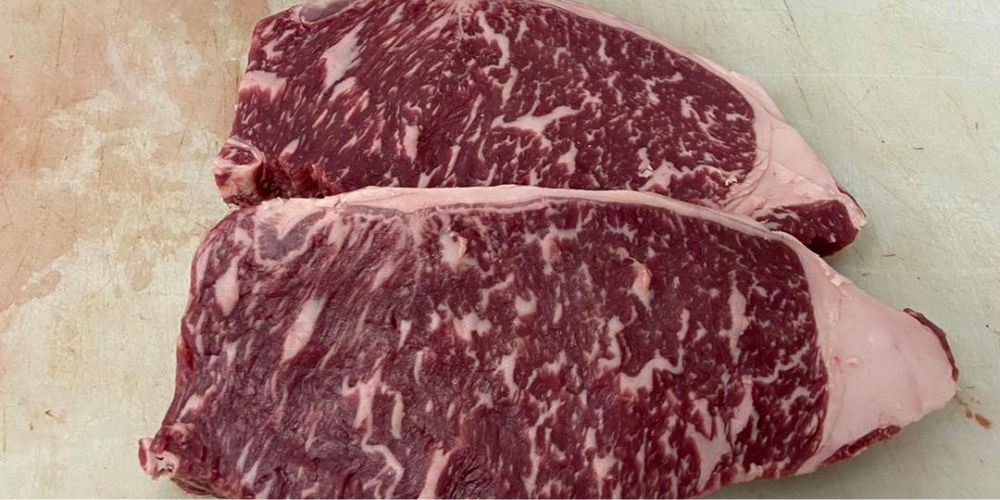 How to know if your steak has gone bad
In this blog post, we will provide you with a comprehensive guide to determining if your steak is safe to eat. We will cover four key steps: checking the smell, colour, texture, and packaging of your steak. We will also share some personal insights from a butcher on identifying spoiled steak.
Step 1: Smell It
Your nose is your first line of defense against spoiled meat. Give your steak a good sniff. Fresh beef emits a mildly sweet, metallic scent that's inviting to any steak enthusiast. In contrast, contaminated steak carries an unmistakable foul odor, often described as sour, sulfuric, or ammonia-like. My personal experience as a college student once led me to a discount steak offer. However, upon opening the meat package, I was hit with a putrid smell, quickly extinguishing my excitement. Trust your sense of smell; it's an invaluable tool for detecting spoiled steak.
Step 2: Check the colour
It's easy to distinguish a fresh steak from a rotten one by looking at its colour. When fresh, steak sports a vibrant reddish-pink hue that looks downright delicious and appealing to any steak lover. If your meat has turned brown, grey, or even bordering on green, that's a visual cue that it's oxidised and no longer safe for eating.
Step 3: Inspect the texture
A steak's texture can reveal much about its freshness. Fresh steak should feel firm and slightly moist, offering a tactile sense of quality. If your steak feels slimy or sticky, it's a strong indicator of contamination and spoilage. When I was young, I was fond of preparing tacos for taco nights at home. I remember taking out the meat to marinate it, but when I took it out of the package, the minced meat felt strange and slippery. When I sniffed it, I thought I was going to hurl! It turns out the minced beef I bought the other day was beyond saving.
Step 4: Double-check the labels
When determining if a steak is still safe, checking the package dates provides a useful starting point for checking the freshness of your steaks. But no single date gives definitive proof of freshness or spoilage. Here are some tips on decoding meat label dates:  
Sell-by: This store shelf-life date indicates when butchers should remove steak from displays. Steak is often still fine to eat for 3-5 days past this date, though quality declines over time.
Packed-On: Butchers sometimes include this packaging date, showing when the raw steak was wrapped. Consume or freeze steak within 3-5 days for optimal freshness.
Use-By: This recommended date aims to ensure peak quality. Steak isn't necessarily unsafe if used past this date, but carefully check for other signs of spoilage. It just says that consuming it by this date ensures you get the highest quality and best-tasting steak. 
Expiration Date: Labels don't usually include expiration dates, especially if it's fresh meat. But if the pack is unopened, frozen steak lasts beyond this date.
How to Avoid Food Poisoning from Steak
Food poisoning can be a nasty experience, and it's especially important to avoid when cooking steak. Steak is a delicious and nutritious meat, but it can also be a breeding ground for harmful bacteria if not handled properly.
Here are some practical tips on how to prevent food poisoning from steak:
Frequent hand washing, particularly before cooking or cleaning, is a must.
Clean dishes and utensils that come into contact with raw meat, poultry, fish, or eggs. 
Use a thermometer. Beef should reach at least 160°F (71°C), poultry 165°F (73.8°C), and fish 145°F (62.7°C).
Don't cross-contaminate your steaks with other kinds of food.
Refrigerate perishable food or leftovers within two hours.
Do not consume uncooked meat, poultry, or fish that has been refrigerated for more than 1 to 2 days.
Cook frozen foods for the recommended time on the package.
Avoid outdated foods, packaged items with broken seals, or cans with bulges or dents.
Trust your senses – check the smell, visuals, and how it feels to the touch. 
Measuring the doneness of a steak can be done in several ways. To accurately determine the temperature of a steak, many recommend inserting an instant-read thermometer into the centre of the steak. But not everyone has a meat thermometer ready to use in their homes. An alternate method is the hand-feel method, which involves touching different fingers and comparing the hardness of the flesh to the palm beneath the thumb. These methods, while useful, are not error-free. An instant-read thermometer is the most dependable tool since it can accurately determine the interior temperature corresponding to different doneness levels.
Rare: 54°C or  130°F
Medium Rare: 57°C or 135°F
Medium: 63°C or 145°F
Medium Well: 68°C or 155°F
Well Done: 74°C or 165°F
The quality and safety of your beef depend on the temperature control from the butcher or market to your plate. Optimal storage is 2°C for meats in your fridge.
As a general guide, mince should be kept for one to three days after the use-by date if handled properly. Quality decreases on that date, so use it ASAP or freeze it. Rather than dates, trust your nose and eyes to tell if meat and poultry are still good to eat. For unpackaged meat, sausages, or chicken you've bought, follow these storage times after purchase:
Minced meat: one to two days
Steaks and joints: three to five days
Chicken pieces: one to two days
Whole chicken: one to two days
Monitoring storage temperatures and using your senses are critical to keeping meats safe and tasty. A quick sniff or look will tell you if it's still of good quality or ready for the bin.
According to the Australian Institute of Food Safety, contaminated foods can spread bacteria and cause foodborne illness through direct or indirect contact, a process known as cross-contamination. Even properly cooked foods can become contaminated during preparation if measures aren't taken to prevent the transfer of pathogens. Fortunately, following proper sanitation practices in the kitchen can significantly reduce the risk of cross-contamination. These include: 
Maintain separate, sanitised utensils and cutting boards for raw meat and ready-to-eat food.
Store food covered and raised off the floor to avoid spills from other items.
Handle food with clean hands, minimising contact to reduce contamination risks.
Refrigerate raw meats on the bottom shelf to prevent juice dripping.
Store cleaning chemicals away from food areas.
Use different cloths for cleaning food surfaces and non-food areas.
Allow utensils to air dry after washing.
Prioritise hand hygiene throughout food prep.
By following these sanitation tips, you can prevent cross-contamination and reduce foodborne illness risks.