A Pellet Grill Buying Guide​
​​What to consider before getting one
Let's get this out of the way right away: Yes. There's a common misconception among backyard grillers that pellet grills are solely for pitmasters.
However, if you're undecided about which grill to buy, pellet grills provide an easy, clean, and reliable way to cook a broad variety of dishes with fantastic wood flavor. The use of pellets as a cooking fuel was groundbreaking in and of itself, but it's what a wood pellet grill does that sets them apart. Pellet cookers can smoke, grill, bake, BBQ, and even sear in certain situations by combining this combustible fuel source with precise temperature controls. Their uniformity is unrivaled, and many versions come with pre-programmed cooking regimens for various cuts of meat, such as beef brisket Melbourne cut. 
But how can you sift through all of the possibilities to discover the best fit for you? Simply follow our easy-to-follow pellet grill buying guide, which will walk you through everything you need to know, and these may transform the weekend charcoal-er into a community maestro.
Pellet grill combines the ease of use of a gas barbecue with the versatility of a charcoal grill. This grill includes a huge metal bin, sometimes called a hopper, where you may add pellets made from compressed sawdust of flavorful woods like hickory, oak, and mesquite. The pellets may be purchased from a hardware shop or a home improvement center. It also contains an electrical igniter that pulls the pellets out and ignites them, producing smoke and heat for a unique flavor, and a thermostat, which is a very useful feature that allows you to set the temperature to a precise level.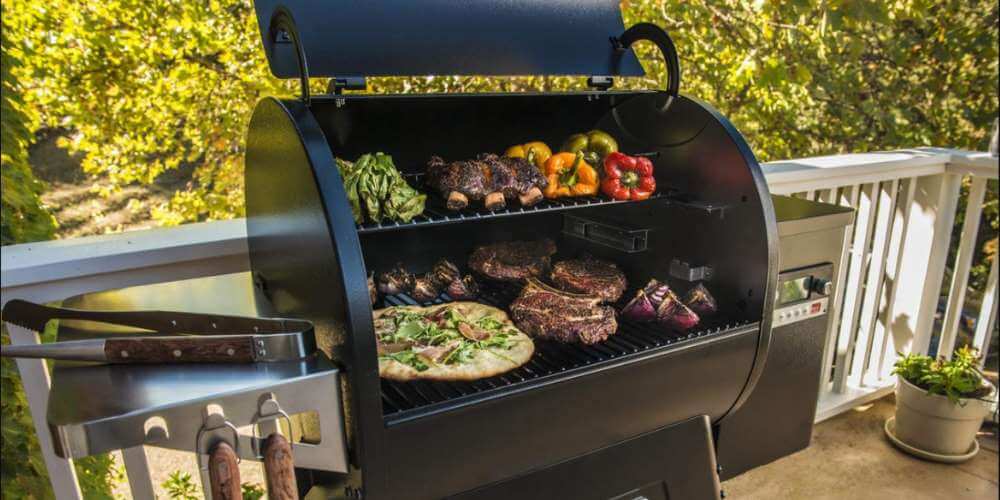 What are the benefits of using a pellet grill?
Wood pellet grills produce constant smoke and heat that may be readily controlled. The smoke imparts a genuine wood-fired flavor to anything you prepare. Because the flame is kept securely away from the food, there are no flare-ups. A pellet grill also eliminates the need for temperature monitoring because the temperature stays where you want it for as long as you want it, which is ideal for low and slow cooking. Cooking with all-natural hardwood enhances the flavor of your favorite meats.The criteria of a good pellet grill include flavor delivery – nothing beats the taste of savory smoke and ease of use – getting that smokey flavor the conventional method is laborious and dirty, but it's never been easier or cleaner than with a pellet grill.
What are the things to consider when buying?
A low-priced pellet grill may save you money in the short term, but in the long run, it will cost you more. Its parts will rust and probably have to replace some or all of that low-cost grill in less than five years. A high-quality pellet grill is made and will deliver consistent results for many years. Cheap pellet grills are not only less capable than more expensive grills, but they are also more prone to break down. Look and choose for a pellet grill that consistently performs, regardless of price. An average pellet grill Australia costs AUD 900. (Note: Price reference). Keep an eye out for the warranty's length and scope of coverage, which is usually two years. If you have an issue, the majority of the brands are quite trustworthy and helpful.
The best method to ensure that you have a long-lasting pellet grill is to invest in one that is well-built and constructed. The best pellet grill Australia isn't like offset smokers in that it doesn't have to be heavy, but it also shouldn't be fragile. When you close the lid, check to see whether any gaps are ensuring a solid seal. Examine the joints, or any welding to see if the grill is sturdy. It should be strong, with no gaps or openings for heat to escape, and all seams should fit together firmly.
Consider the material that a pellet grill is constructed of before purchasing one. Painted steel makes up the bulk of pellet grill smokers on the market. The grade of the steel and the paint, on the other hand, might differ. A good high-temperature powder coat paint will not blister or flake when exposed to extreme heat. This is necessary because the steel will rust if it is exposed. Even if the grill body is well-painted, you must inspect the interior. The fire pot and diffuser plate are two of the most common elements that need to be replaced since they have the potential to corrode. 
Even in cold weather, the grill's high-quality materials and well-built design help it retain heat better, making it more efficient and allowing for improved pellet usage.
Temperature range might be essential depending on the sort of cooking you intend to conduct. Every pellet grill is capable of indirect cooking at temperatures ranging from 82°C to 218°C, which is suitable for baking, roasting, grilling, and smoking. However, it is insufficient for searing, which necessitates temperatures of 500-550°F.
The greater the temperature range of a pellet grill, the more it can do. Upper temperatures on performance pellet grills vary from 500°F to 700°F, which is high enough for a beautiful sear and fire-bake pizza. Many pellet grills also include a direct grilling option, which allows you to cook directly over an open flame as well as over indirect heat.
Pellet grills vary in size from small portable devices to large commercial ones, so know how many people you'll be cooking for before buying something too big or little. Don't suffer from buyer's regret; instead, plan and purchase the item that meets the majority of your requirements. The most appropriate pellet grill meets your specific requirements. A pellet grill with 450 to 500 square inches of cooking space should be enough for a household of typical size. Smaller pellet grills are appropriate for singles and couples, but bigger families, and individuals should choose larger pellet grills.
​​After going over everything we've covered so far in the wood pellet grill buying guide, it's clear that there's a lot to consider when looking for. You'll be the one paying for it and cooking on it in the end, so be sure the pellet grill you purchase is one you'll like. The considerable advice is to do your homework, educate yourself, and understand what you're buying.